EMS Broadcast Meteorologist
Award 2020
for Zoran Vakula

Zoran Vakula inicijator je Međunarodne izložbe karikatura na temu meteorologije, koja je održana u Zagrebu 2018. godine, te i dalje traje uspješna suradnja s Hrvatskim društvom karikaturista na internetskim stranicama HRT-a. Sa zadovoljstvom predstavljamo njegove aktivnosti i nagradu EMS Broadcast Meteorologist Award 2020.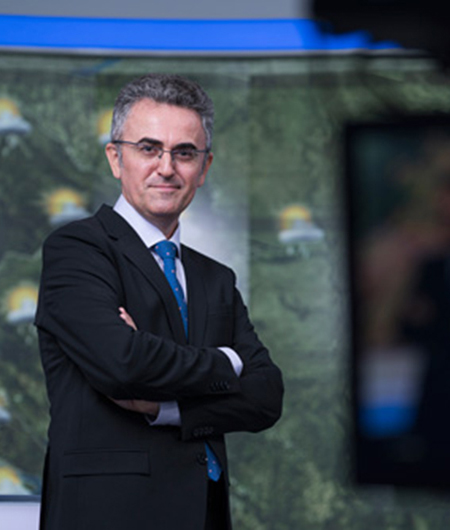 Zoran Vakula


Zoran Vakula, Croatia, has been selected to receive the EMS Broadcast Meteorologist Award 2020. This award honours life achievement of an outstanding broadcast meteorologist. Zoran is a meteorologist and editor of weather programme on Hrvatska Radiotelevizija (HRT), the Croatian national public service broadcast station.


Citation

Zoran Vakula's strong professional and scientific background is combined with excellence in presentation with a high level of skill and an easy communication manner evident in his broadcasts. He initiated numerous outreach initiatives; in particular his work on developing a competition and subsequent exhibition of cartoons with a weather theme stands out. This initiative brought meteorology to a wide audience in a novel and entertaining fashion without trivialising the underlying science.

Noting the successful engagement of Zoran Vakula with the "Dancing with the Stars" TV programme and other media contexts where meteorologists are not typically seen, it is recognised that he had become a popular "household name" in Croatia. This stature enabled him to be all the more effective in his weather broadcasting and communication.


Short Biography

Zoran Vakula received a degree in meteorology at the faculty of physics and geophysics in Zagreb. His long, distinguished career in meteorological science began as a forecaster with the Croatian National Meteorological Service (DHMZ). He presented his first weather forecast on HRT on 5 August 1996. Later, he became head of the Forecast Office, and then moved to work full-time with HRT in 2013. At present, he is the most experienced weather presenter on television in Croatia.

Zoran Vakula, dipl. ing. fizike, nakon osnovne škole u Pitomači, srednje u Virovitici i PMF-u u Zagrebu, te skoro 18 godina paralelnog rada u Državnom hidrometeorološkom zavodu i Hrvatskoj radioteleviziji u Zagrebu, od 2013. radi "samo" kao glavni meteorolog HRT-a. Meteorologija, osobito vremenska prognoza, i posao mu je i hobi.

Osmislio je HRT METEO aplikaciju za pametne mobilne telefone - jedinstvenu u svijetu po subjektivnim prognozama, napisao stotine znanstveno-popularnih tekstova te održao nešto manje predavanja u Hrvatskoj i izvan nje. Promotor je meteorologije i putem meteo-rima, stripa, karikatura, filmova i TV serija, a bio je čak i putem plesa! Oženjen je, i otac kćerke. Srednjoškolke, što djelomično opisuje i njegovo psihofizičko stanje.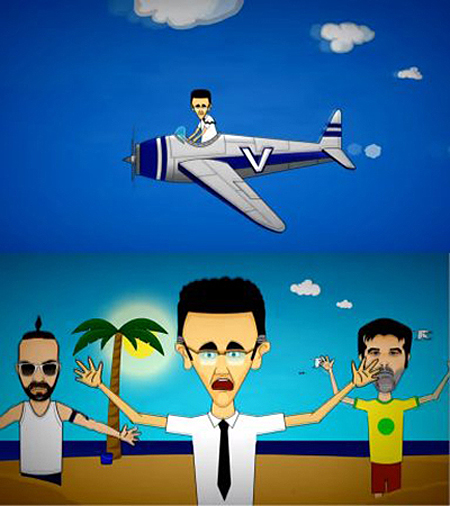 Animated cartoon with Zoran Vakula as the main actor: "Mainly clear, Vakula said!" Ante Cash & Saša Antić – Vakula (official video) on YouTube



A selection of Zoran Vakula's illustrious activities and some examples that illustrate his activities

> He authored a number of scientific publications and gave numerous lectures in Croatia and internationally.
> He produces and verifies weather forecasts, ranging from nowcasting to medium and long-range forecasts, and evaluates their economic benefits. He is also engaged in adapting and optimising weather information for different media platforms.
> He is editor of the TV weather news programme on HRT, including teletext and the web site.
> He writes columns for the HRT web page and printed media.
> As team member he contributed to the design and development of "HRT Meteo" – an application for smart phones which is quite unique because of its use of subjective meteorological forecasts rather than just using products based on numerical algorithms.
> He is the first Croatian representative in the International Weather and Climate Forum, a member of the Croatian Meteorological Society, and a member of the Croatian Journalist Society.
> Besides giving scientific lectures and presentations for an interested audience, he promotes meteorology in the media, including in the form of songs; he was the first meteorologist ever to join a dancing contest "Dancing with the stars".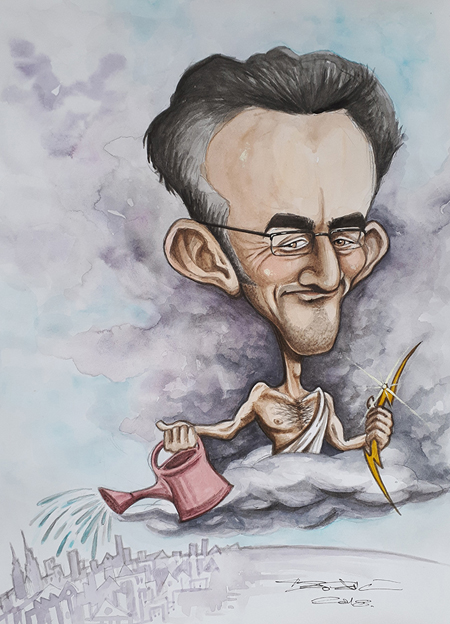 Cartoon of Zoran Vakula by Tomislav Devčić
Portret karikaturu Zorana Vakule nacrtao je Tomislav Devčić


>He took part in many TV series on Croatian television and participated as a guest in many TV-shows and quizzes. He is the author of a short documentary presenting the history of meteorology ("HRT vremenoslovni vremeplov").
> Outstandingly, he is one of the authors of the first meteo comic. Also he is the initiator of international exhibition of comics related to meteorology, which was held in Zagreb in 2018 and is still available on the web page of the HRT.
> Zoran Vakula was the first and so far only meteorologist in Croatia who was nominated for the Večernjakova ruža prize for a TV personality in 2016, and the magazine Story declared him TV personality in 2018 in Croatia. A song »Vakula« by Ante Casha and Saša Antić in 2016 was nominated for a Porin, a Croatian music award.


Originalna objava na:

https://www.emetsoc.org/ems-broadcast-meteorologist-award-2020-for-zoran-vakula/


Objava na webu HRT-a:

https://www.hrt.hr/628722/vrijeme-i-promet/zoran-vakula-dobitnik-je-europske-nagrade-za-izvanredna-postignuca-na-podrucju-meteorologije-i-medija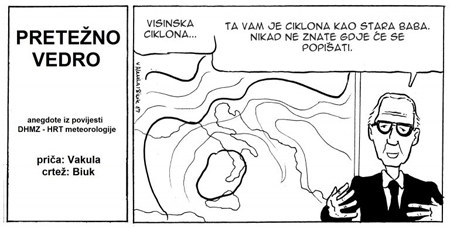 Kresimir Biuk (1st Croatian cartoon / comics about meteorology).
Translation: "Upper-level cyclone is like old woman – you never know where she will pee."
https://www.hrt.hr/423851/vrijeme-i-promet/je-li-po-vremenu-od-lucije-do-badnjaka-poznata-bas-godina-svaka-2/